Ultra Micro Branch Banks Manufacturer in Mumbai, Gujarat, Goa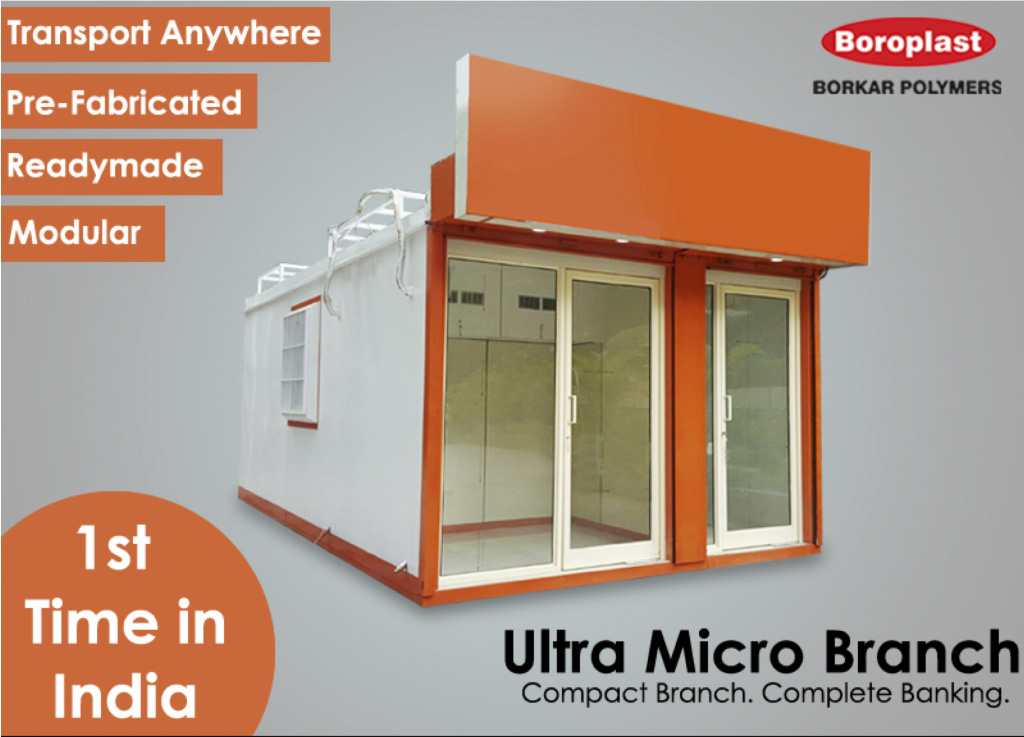 Introducing the Completely Portable, Ready made & Fully Furnished Ultra Micro Branch.
PLUG – N – PLAY
Entire Portable Branch is Factory Manufactured & Furnished. Simply transport the WHOLE BRANCH & Start operations from Day 1. 
ECO FRIENDLY SELF + SOLAR POWERED BRANCH
There is no dependence on any external power source. The Branch works on just 1 Inverter Battery. The Power source is automatically changed to Solar Power in case of a power outage. 
COMPLETELY WIRED + COMPLETELY CONNECTED
End-to-End Concealed FRLS (Fire Retardant Low Smoke) wiring has been implemented in the branch. All necessary peripherals like Computers, CCTV, ATM, LAN, Telephones, Servers, Wi-Fi etc. are pre-connected and ready for use.
SOLID & STURDY SAFETY VAULT
Safety Vault is provided to store cash & other valuables in complete safety, away from prying eyes.
SPACIOUS STORAGE
Abundant file cabinets, sliding drawers & cupboards to keep records safely.
CLIMATE-PROOF BODY
Strong Pre-Fabricated construction make this branch Water-Proof, Leak-Proof, Vandalism-Proof & Theft-Proof. MS Structural members, External CRC Panels and specially designed interlocking roof panels make the branch virtually Climate-Proof.
TRANSPORT. ANYWHERE. ANYTIME.
Towns & Villages often see rapid infrastructure development. In such cases, the entire branch can simply be transported to a more suitable location. The "Portability" of the branch ensures easy transportation to any location in the Country.
BRANCH WITH ON-SITE ATM
Independent ATM on-site with separate Air Conditioner, Power Supply, Lights & Rolling Shutter. It also includes the Passbook Printing Machine.
COOL COMFORT
Fully Air Conditioned Branch with auto-switch timer to reduce the load on air-conditioners. All Air Conditioners are pre-installed & ready to use.
ALMOST ZERO TAT
Every factor is taken care of including Electricity, Water Supply, Heating Ventilation & Air Conditioning (HVAC), Branding, Floor Plan etc. It is literally ZERO TAT.
CLEAN SANITATION
Fully equipped toilet with WC, Jet Spray, Flush Tank, SS Wash basin, Mirror, Aroma diffuser, Soap Dispenser & Napkin rod. Every comfort has been taken care of for both employees & customers.
TOPPER TOP
Top of the Branch is thoughtfully planned and has mounts for AC Outdoor units, Ladder, VSAT Dish, Water Tank & Solar Panels. It is easily accessible with the attached Ladder provided at the rear side of the branch.
MODULAR DESIGN
Seamless Modular Design which is pleasing to the eye has been developed for the first time in India. It is Pre-Fabricated but does not look like a "shipping container" converted to a branch.
EFFICIENT WASTE MANAGEMENT
Optional choice between BioDigester Tank / Plastic Septic Tank / Y-Type Pipe Leach Pit ; any of the 3 eco-friendly methods can be adopted for Waste Management on-site.
SERVICE PANTRY
Customer service for any bank branch is key priority. A strong granite platform with a SS Sink & Plug Points has been provided as a dedicated space to make tea & other refreshments for customers as well as the staff.